contenido viajaconconfianza
TRAVEL WITH CONFIDENCE
TRAVEL WITH CONFIDENCE
Fiesta Rewards is offering you new benefits.
Get ready to travel and enjoy our exclusive new benefits: Access to Fiesta Rewards private floor and all of its amenities, spa discounts, welcome gift, coffee kit, early check-in, and late check-out just to name a few.
Visit fiestarewards.com for details.
Fiesta Rewards. We reward you, we recognize you.
Best available rate guaranteed. At Posadas, we guarantee the best booking option through our direct sales channels policy: "best guaranteed rate." We are adjusting our processes to guarantee the best available rate in our direct sales channels. If you find a better rate, we will match the offer when you contact our assistants via phone, chat, WhatsApp, social media, or any of our means of contact.


Cancellation, and flexible change policies. For prepaid reservations, you will maintain the corresponding discounts and also incorporate flexible modification options according to the hotel. Choose a new date of travel within one year from your original travel date (subject to availability).
As part of our safety, hygiene, and flexibility to travel and stay with us again program, Travel with Confidence, and under this same scheme, we have developed a cleaning and disinfecting program, as well as a series of recommendations for groups, conventions, and events (such as meetings, conferences, social encounters, weddings, and banquets).
This plan covers all main hygine measures in public areas before, during, and after each event; guest access to event rooms, auditoriums, or meeting rooms; and cleaning protocols for conference equipment, accessories, tableware, etc.
If you want to learn all the details, click here to download "Groups and Events: Cleaning and disinfecting plan".
At Posadas, we are proud to bear the Safe Travels stamp and to be a part of the group of organizations that brought this global initiative to life. As proposed by the World Travel and Tourism Council (WTTC), this initiative unifies global protocols designed by health experts and government organizations under one stamp.
It's important to us to support and participate in these initatives, which is why all of our hotels bear the Safe Travels stamp, affirming our vision of travel as a safe, trustworthy, and endless source of memorable moments for all of our guests. This way, we contribute to Mexico's economic growth
Travel with confidence, travel safely
We offer the safety, hygiene, and flexibility you need to travel and stay with us again. We know that unexpected incidents during a trip can cause uneasiness, especially getting sick while away from home, considering current global events.
For your peace of mind, you can purchase medical insurance upon check-in. This insurance covers emergency medical care in case of an accident or illness, including Covid-19, and protects you throughout your stay at any of our hotels. We offer this exclusive benefit to all of our guests as a support and protection measure.
The Travel with Confidence Protection Protection program has been designed to offer you telemedicine services, health insurance (including Covid-19), and attention in case of other serious incidents. The program guarantees immediate, safe, and discreet assistance.
Benefits:
Coverage from check-in to check-out.
Coverage of medical care in case of an accident or illness suffered inside or outside the hotel (including Covid-19)
No deductible or coinsurance charges.
24/7 telemedicine services without leaving the hotel.
Coverage of hotel expenses (including meals) during convalescence period if the health professional determines that the patient should remain in the hotel for a period longer than what they had originally planned due to a serious injury or illness.
Emergency ambulance services if medically necessary.
Coverage:
Medical care in case of an accident or non pre-existing illness (including Covid-191)
Coverage of hotel expenses during convalescence period (in case the health professional forbids the patient to travel home; limited to five days)
Repatriation of remains in case of accident or illness.
Virtual consultation, telemedicine services, or telephone medical assistance.
Emergency ambulance services if necessary.
This program applies for the following brands: Live Aqua, Grand Fiesta Americana, Fiesta Americana, The Explorean, Fiesta Inn, Gamma*, and one.
*Except for the following properties: Live Aqua Beach Resort Punta Cana, Ciudad Juárez, Cuernavaca Puerta Paraíso and Mérida El Castellano.
1 Medical expenses resulting from Covid-19 treatment or posible Covid-19 will be covered as long as the first symptoms present themselves during the guest's stay. If, according to hotel protocols, the guest should present any symptoms upon check-in, Pan-American will be exempted from any responsibility.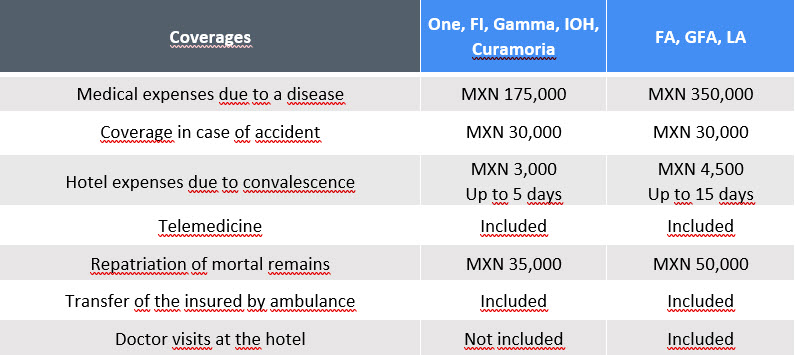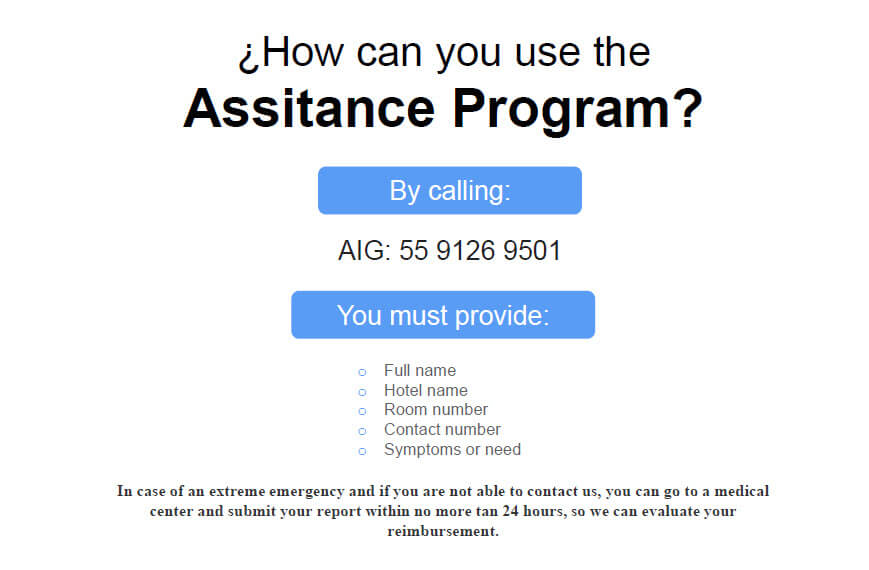 UPDATE ON COVID-19 TESTING AVAILABLE WITH A SURCHARGE AT OUR HOTELS STARTING JUNE 13th, 2022.
Dear Guest:
For us, the most important thing is to offer you memorable experiences in a totally safe environment. At Posadas we continue to implement the most effective cleaning and disinfection measures through our Travel With Confidence program.
Thinking about your safety, and given that some countries still require a negative COVID-19 test to enter their territory, we offer you at an additional cost -which applies to new reservations starting June 13, 2022- and subject to availability, an antigen test at the hotel facilities* or at nearby laboratories.
Upon your arrival, request at front desk to schedule an appointment. Remember to check in the official media of the country to which you are traveling, the previous time with which you must take the test.
dditionally, we recommend to purchase the Travel With Confidence Protection when you check-in with us, an insurance that covers accidents or illnesses that you may have during your stay, such as COVID-19. In that case, as an insurance benefit, we offer you a reduced rate of 50% per night, per person, so that you can safely spend your quarantine in the hotel facilities.
If you show any COVID-19 symptoms, please give notice to one of our collaborators to help and seek the best solution for you.
You are our priority and we are happy to welcome you.
*Applies to Live Aqua, Grand Fiesta Americana, Fiesta Americana, IOH, Fiesta Inn, Gamma, The Explorean and one brand hotels. The average cost of the Antigen Test is $30 USD, plus taxes, per person. This price may change without notice. If you need a PCR Test, you can request it, the cost of the test may vary by city.