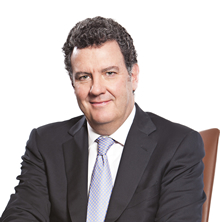 Pablo Azcárraga Andrade
CHAIRMAN OF THE BOARD
POSADAS
Corporate Governance
Grupo Posadas, S.A.B. de C.V. is a variable stock corporation incorporated under the laws of Mexico and acts as a holding company, conducting business within itself and its subsidiaries.
In accordance with our corporate bylaws, everyone serving on Posadas board of directors is elected at our general assembly. Our board makes all major decisions concerning management of the company and its subsidiaries. As dictated by our bylaws, membership on our board of directors is restricted to no fewer than five and no more than 21 individuals (or their respective representatives). At least 25 percent of board members must be independent and not employed by Posadas or any of its subsidiaries. Our bylaws also require that the majority of board members must be Mexican citizens.
The current members of our board of directors and its committees were elected by the Annual Stockholders General Assembly, and are comprised of 10 principal directors and 2 external advisors, who will retain their positions until their replacements are selected and assume their duties.
The following table shows the names of each current member of our Board of Directors, along with their respective ages, titles, and the dates they were first appointed.